This is our 1985 "FrankenVette."  Call me crazy, but this is the third time we have owned this car.  I originally traded my 69 Camaro and 74 Stingray in 1989 PLUS I financed $8,500 for this ride.  Over the following years I swapped the motor, drove it through college, met and proposed to my wife...and eventually lost interest and sold it in 1996.  By that time it had newer body panels and a 383 TPI motor.  I bought it back in 2003 with a blown motor and quickly put it back into service.  Hang on....it gets more interesting.  I found my 69 Camaro in late 2003 about 200 miles away on its third owner since me in 1989.  I ended up trading this 85 BACK to get the Camaro.  A little more than a year after that, the 85 was in a bad accident that nearly ended its life.  Jim and his wife agreed to sell the old beast back to me in 2006, and the saga continues once more.  Stranger than fiction...you bet!  Here is a history of the car starting with photos from 2003 and bringing you to present day.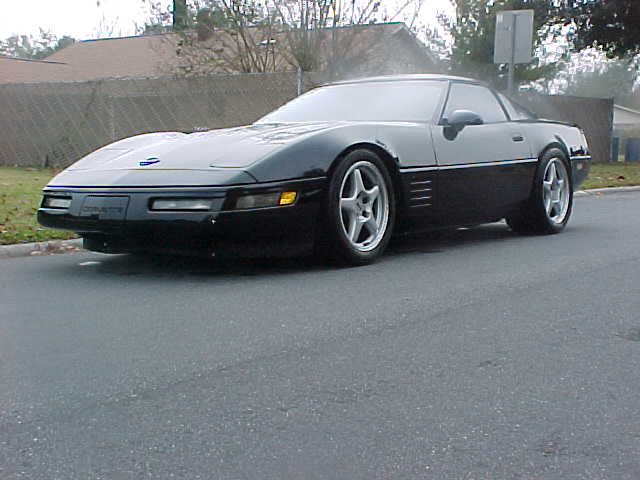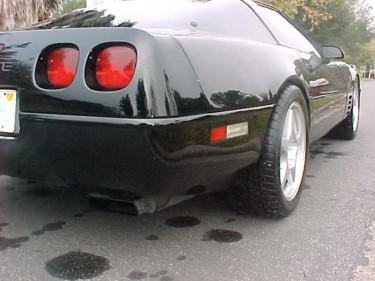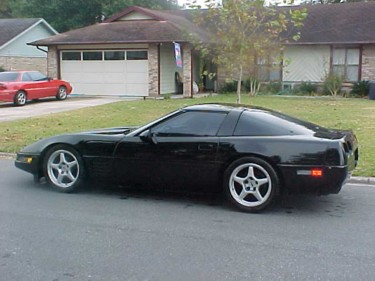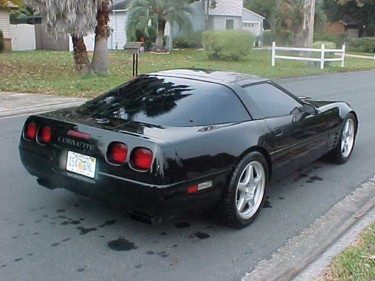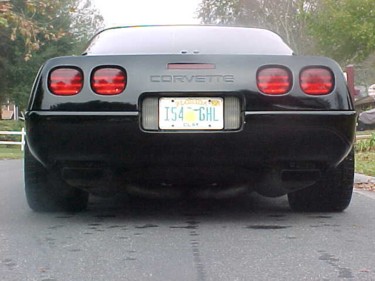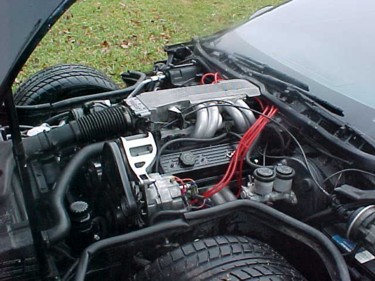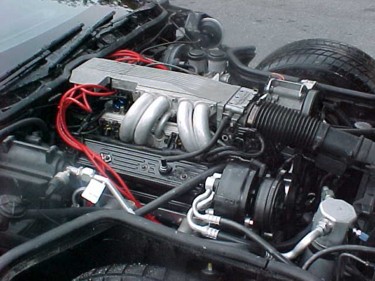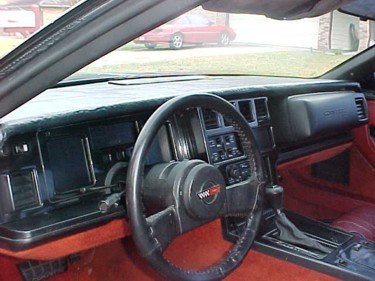 Now, I am going to take you back in time.  The year is about....1990'ish.  Here are some photos of the 85 Vette after the first major engine swap.  This is a 1990 School Bus 350 block with a Ultradyne roller cam, aluminum 1990 off road heads, roller rockers, and adjustable fuel regulator.  I also installed a ADS strip chip.  The car was quick for a TPI in 1990.  Oh, the hot chick....that is Nikki.  Little did she know this was just one in a long string of automotive pursuits!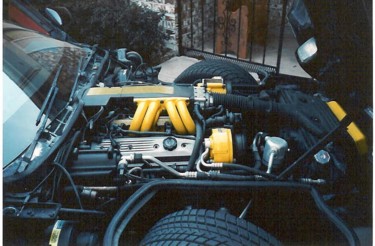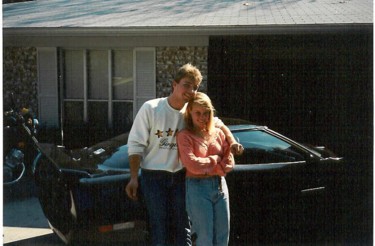 I had painted the car Cadillac Black Cherry, added a wing, and phazer discs to the rims to give them a more modern look.  Oh...and those are SUPER TRAP mufflers hanging off the back!!!!!!!!!!!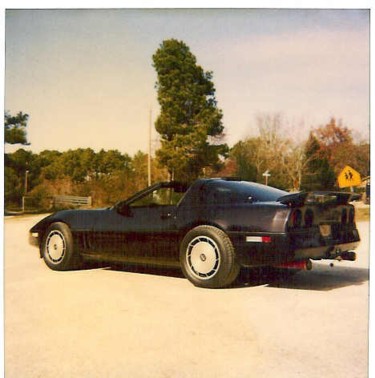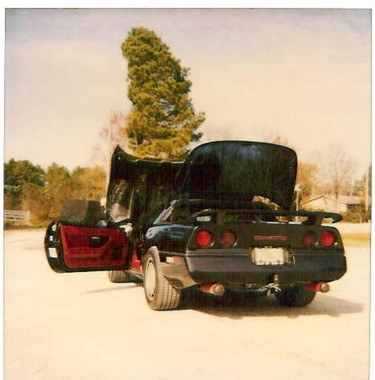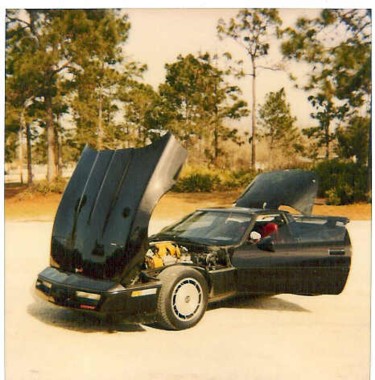 If some is good, more is better.  So in early 92 I laid out plans for a freaky 383 (that is still in it today).  After installing the torque monster motor, I quickly went to work on the body.  A entire set of new OEM 1991-1993 bumpers and trim did the trick.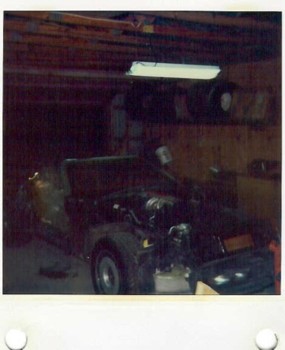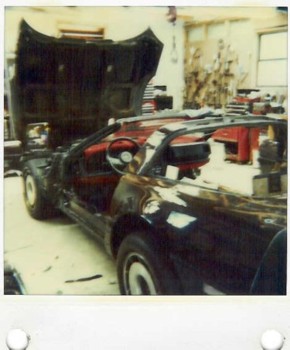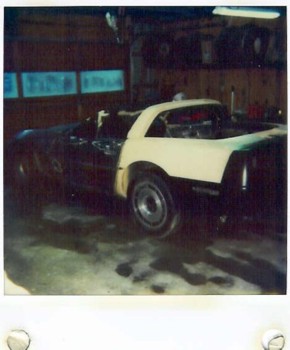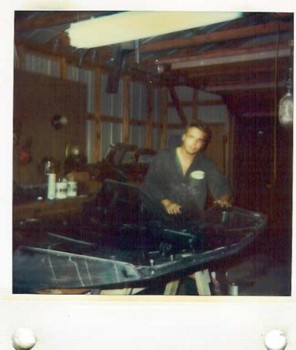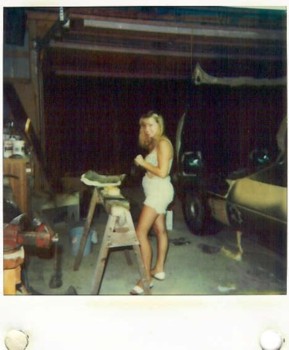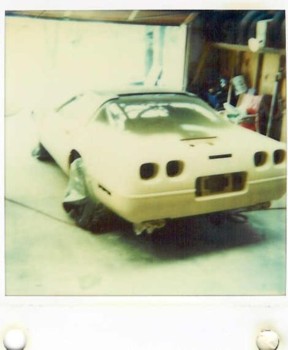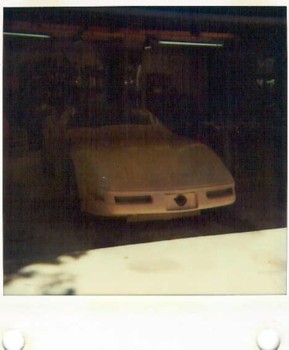 In 2005 thanks to a Mustang driver running through an intersection, the car is now in serious bad shape.  It was hit in the right front wheel and passenger cowl area.  The frame has a substantial bend on the upper A-frame horn.  The current owner of the car removed the engine and trans and the car now sits.  He took the super cool ZR1 wheels off and replaced them with a set from his new to him 94 Vette.  You know...I could still imagine Frankenvette rising from the ashes with a LSX motor, 4L60E trans............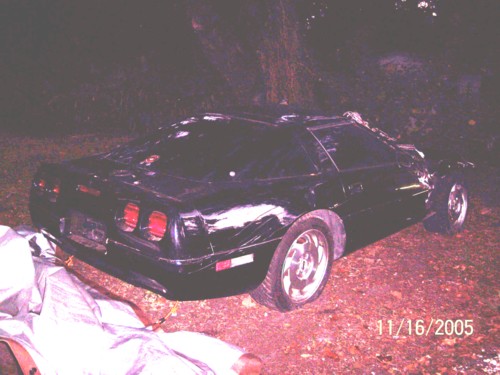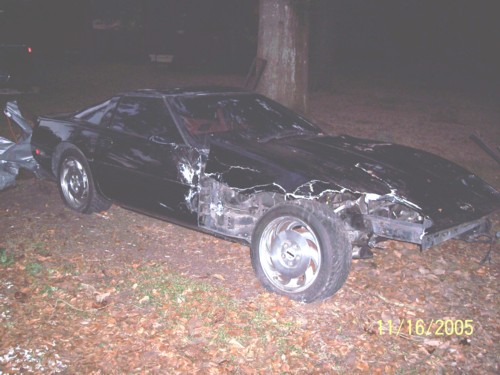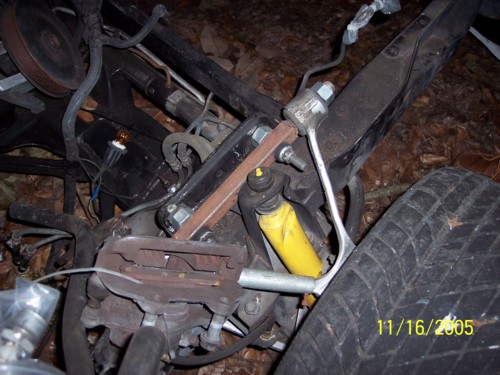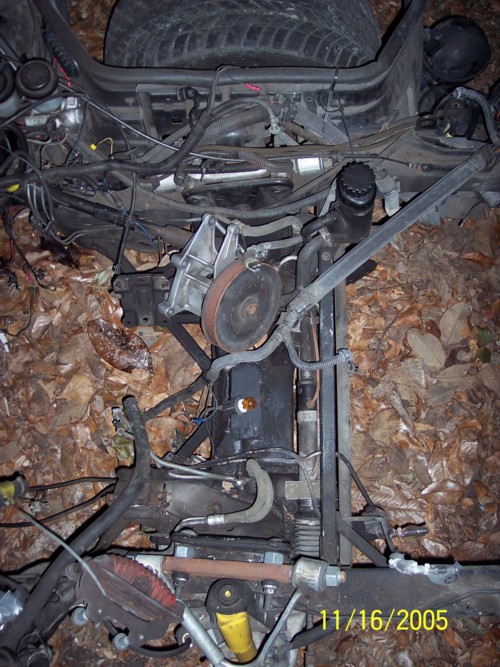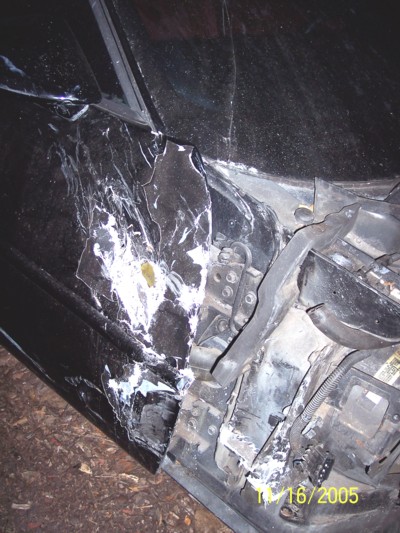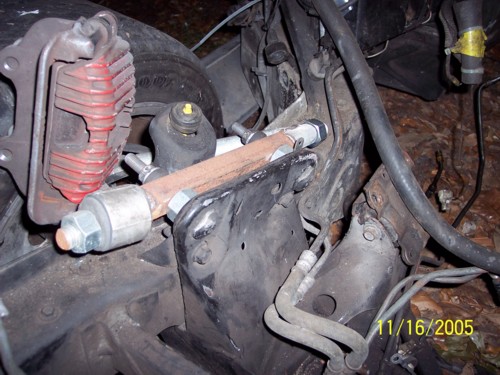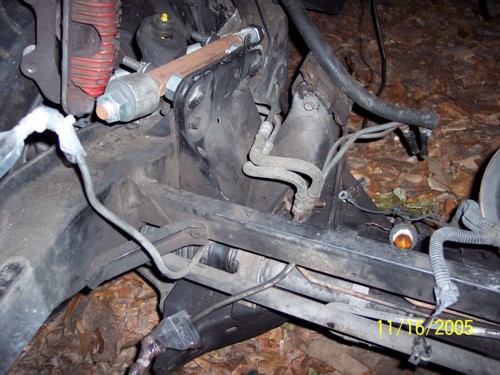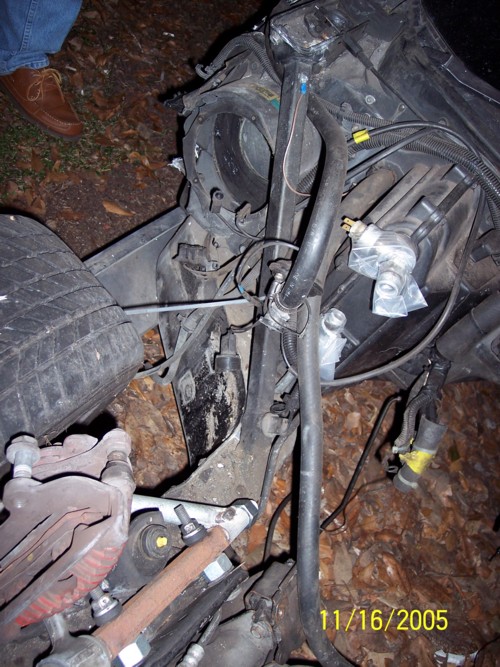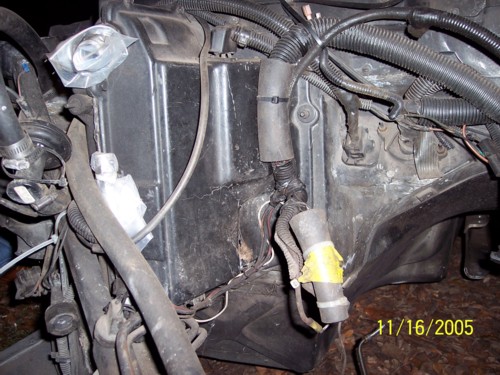 Temporary repairs to make the car roll. 

Notice the position of the upper A arm mounts from right to left.  You can see how bad the frame got rolled over.

The door damage isn't all that bad.  I could easily fix that.

The impact pushed the air box into the engine.

Update:  It is now a year later and Frankenvette is once again in the McSpeed garage.  The first order of business is to replace the broken suspension and fix the frame.  Here she goes off to the frame shop.

The car is back from the frame shop.  The next step in the process included removing the old bushings/ball joints, and cleaning up the suspension parts.  Thanks to Vette Brakes and Products, the new poly bushing are a snap to slip back in.  Next I scrubbed the entire front frame and coated it with semi-gloss satin black paint for a factory clean finish.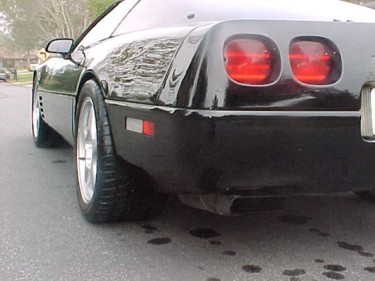 Click here to see the LSx install page:

Let the body work begin!  Chance Smith is helping me prep for paint.  We started by taking a razor blade to the car and slicing off SIX prior paint jobs.  That was followed by fitting the various body panels that include a used 86 hood and passenger door, a 91 front bumper, and 93 right side fender.  Chance suggested we rattle can spray the car in orange and guide coat the base surface before the primer.  This gave an early indication of high/low, and general trouble spots.  Next, we sprayed the car in a 2K primer.  This is followed by a black rattle can guide coat and gental 400 grit wet/dry sanding.  Anywhere a black area remains, there is a low spot that needs filling.

Finally to the paint booth.  We took the bumpers, doors, headlight covers, front license plate, side fenders, and gas door.  We also decided to shoot the wrap around light corner in silver as well as the side fenders. 

YES!  It looks like a car again!  NOTE - there is no engine or trans in the car in these photos - thus it sits as high as a truck.  Once the LS2 and trans is in, it will sit low again.

This is PPG Concept 2021 - AWESOME PAINT!  Supplied by PPG and C.A.R.S. of Winter Haven, FL, and sprayed on by my #1 helper - Chance Smith working with Michael's Auto Body.